This story is soooo old hat, that it starts to be boring.
Fact: there has never been an "Eva Braun" car. Neither a gold 540K, nor any other type of Mercedes, nor any other brand for that matter.
Fact: the so-called "Eva Braun car" is a creation commissioned by the late Tom Barrett to get people's attention at the time he started his car auction business. ( now Jackson-Barrett )
According to Frank Barrett (no relation) of Toad Hall Books, who published for years "The Star" in the USA for the MBUSA-Club-members, in all likelihood the car was made  in a bodyshop in California, perhaps on a old 540K chassis, however, since Tom Barrett never let anyone get too close to the car, even that can not be ascertained for sure. Neither is it known if this car had an engine or not.
Frank Barrett told me that he had seen the car exhibited, and saw right away that it was a fake.
All claims regarding the so-called golden "Eva Braun car" are absolutely preposterous, and technical nonsense.
So, when people claim to have seen the "Eva Braun car", they in fact saw a creation commissioned by Tom Barrett to promote his fledgling car auctioneer's business.
Incidentally, the car has disappeared since quite a while. Either it is hidden, or it has been destroyed….
No matter what, it is absolutely clear beyond any doubt, that there has never been a real "Eva Braun" car, period!
I have a letter from the Mercedes-Benz archives which clearly states that point, and there is no reason why they would hide something…
The legend will however survive us both for a while I'm sure…oh, the nice cold shivers going down the back, when the talk is About Hitler and Eva Braun…
Attached, the only picture I could find of Tom Barrett's creation,….. which by the way had been repainted from gold to red….you bet that if it had really been gold plated, the car would have been left as is…much more in-your-face appeal than a mere red, don't you think ?
Scale models claiming to represent the "Eva Braun" car, also are to say the least mislabeled, again, because Adolf and Eva sell better than "just" a mere 540K description . That point is valid for the large tin models as well as for Brianza's 1:43 model, and any model in between.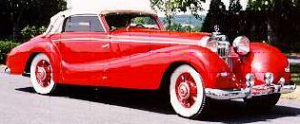 Tom Barrett's, alleged fake E Braun Car