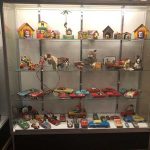 If you are a fan of the rare autobahn toys made by Tipp & Company, as well as other toy makers, you need to plan a trip to the DFW Elite Toy Museum in the near future.  It is located at 5940 Eden Drive, in Fort Worth, and it is a fascinating look at the past for kids of all ages.  Call us for hours and details at (817) 834-3625.
Tipp & Company
The German toymaker Tipp & Company, which is often referred to as TIPPCO, was a manufacturer of tin toys.  The company was located in Numberg, the main toy district in Germany during the 1930's and 1940's.  The company was started by Frau Tipp and Herr Carstens in 1912.  They offered a wide range of toy cars, fire engines, motorcycles, airplanes, war toys, and autobahn sets, all made of tine.
After the war they expanded their toy line to include commercial vehicles, transporters, filling stations, track sets, and accessories. To cut costs, TIPPCO changed its production line to plastic toys instead of tin, a move which turned out fatal for the toy manufacturer. Facing stiff competition in the industry, TIPPCO shut its doors in 1971, but their toys, including the TIPPCO Autobahn Kurier, a picture of which you will find at the DFW EliteToy Museum, are very rare and highly sought after by toy collectors around the world.  In fact, only one was made.
The Autobahn Kurrier
The Autobahn Kurrier was also known as the Geschlossener Sportwagon, an incredible 13 ½ foot long sedan capable of handling the brand new Autobahn and its high speeds.  How many of these cars were actually made is anyone's guess.  Records were lost during the war, but rumors run rampant regarding that piece of German craftsmanship.  We can tell you that the toy itself carries a five-figure price tag, a point which verifies its rarity.
The Autobahn
The Autobahn was a federally funded super highway in Germany, widely known for the fact that it has no posted speed limits. It was first begun in the 1920, and construction picked up steam under Nazi rule in the 1930's. Construction was halted during the war years, and the resumed in the 1950's.  The highest speed reached on the Autobahn was 268 miles per hour.
Toys and History
Just those little snippets of history are enough to point out why so many collectors worldwide spend vast amounts of time and money trying to secure rare toys like the ones found at the DFW Elite Toy Museum.  Pieces like the Eva Braun Mercedes, an Alfa Romeo pedal car, a Fiat Roadster, and other rare toys are fascinating visions of a world we no longer see, a world where craftsmanship and quality were embraced and highly sought after.
We welcome you to the DFW Elite Toy Museum.  Plan on spending a couple hours with us when you do come.  It takes quite a bit of time to go back in time and learn about the world as it once was, and we sure don't want you to rush through our museum and miss something.