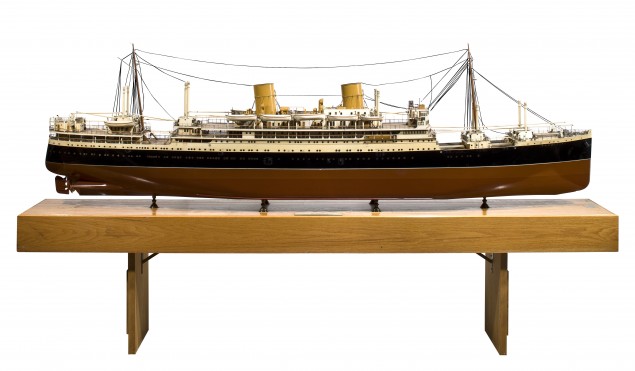 A builders' model of the R.M.S Rangitiki for the New Zealand Shipping Company
British, circa 1929
The hull built up for the solid, with a painted duel red bottom, black and white top sides with inset brass portholes, name, anchor, gangways, topside boarding gates, window and other topside details. The decks in maple veneer with the planking lines drawn in India ink and detailed with chocks, bollards, deck railings, anchor, chain, and windlass; ventilators, deck hatches, boats on davits, main mast with crow's nest, rigging, cargo booms mail deck structure with bridge and bridge wings, wireless terminal, a pair funnels painted in NZSC's buff color, aft mast rigged with cargo booms and other details, aft docking bridge, flagstaff and numerous other details.
145 x 19 x 75 in. (368.3 x 48.2 x 190.5 cm.) model on table stand
British twin-screw passenger liner full-hull rigged builder's model depicting "Rangitiki."
It was built by John Brown and Co., Ltd., Clydebank, Scotland, in 1929 for the New Zealand Shipping Company. There are many irregularities to the outside of the structure's many protruding curved and square bays, and many corner-turning passages. The ship was launched on 29 August 1928 and completed on 26 January 1929. In December 1940 she became a troop transport. After World War II, during 1947 and 1948, she was refitted by Brown, who also re-powered her with new Doxford engines. Her tonnage again increased, on September 1948, she departed on her first post-war voyage from London to Wellington. On 26 July she arrived at Santander to be broken up.
Provenance: Malcolm Forbes Collection
Price: $75,950
Article #3057