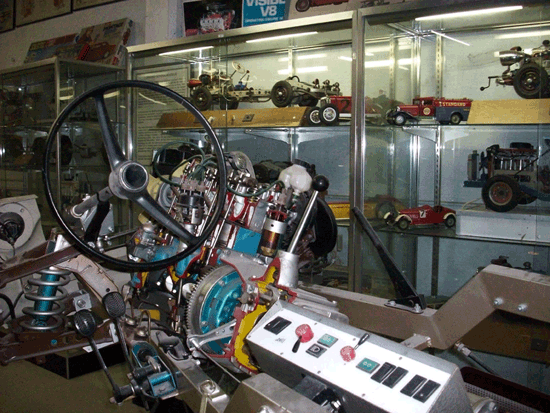 Documents and stories about driving school models:
Many of the items on display are from European Driver's Schools. Early driving schools in Europe taught car owners and/or chauffeurs how to work on their automobiles, as well as how to drive them. This was originally accomplished on actual vehicles, even though it was messy, uncomfortable and less than ideal. In the late 1930s, Emil Hohm, anOpel dealer in Germany, developed the first instructional models which could clearly demonstrate the function of the motor vehicle. The German military made extensive use of instruction models during World War II.
In the post-war era, driving schools flourished in Europe and the functioning instruction model became part of the basic curriculum. Some of these models were complete frames with all of the attendant systems while others were of specific systems.
The Hohm Company built approximately 1,000 of the complete frames and system instruction models after the war. The engines could be turned over (some with the engine hand cranks), driving a 3-speed plus reverse transmission through a functioning clutch. This drove the rear wheels through a fully operational differential. Both the foot and hand brakes were functional, as were the steering, suspension, and lights. Four-wheel drive models were constructed, as well as more common two-wheel drive versions. Trailers with surge brakes were another item often modeled.
These instruction models have little use in modern driver's schools and have turned into rare and valuable collectors items.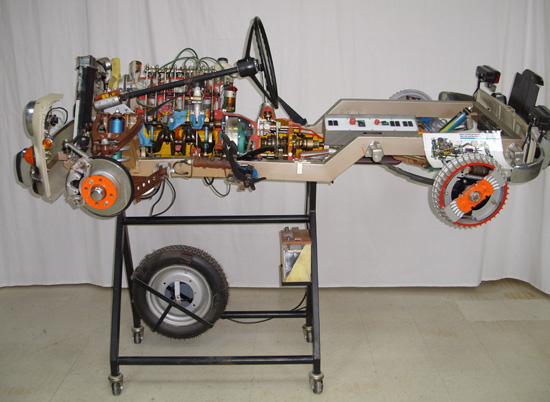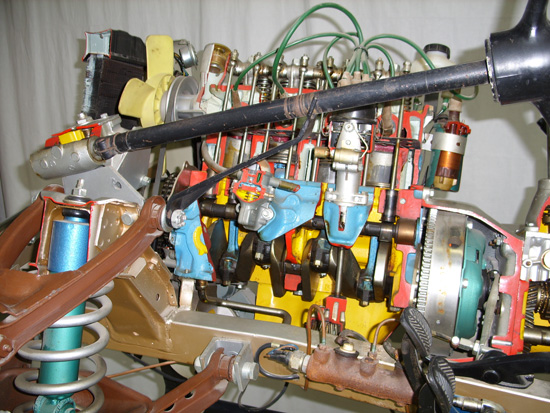 This large half-scale driving school model was made in Germany in the 1950s by Werner Degener. It is very rare, and fully operational. Originally built with 220-volt power, we have converted it to run on 110 volt. This model features a 4-4cylinder engine with a cutaway that clearly demonstrates the functions of the motor as well as the transmission, clutch, rear end, etc. All of the car's lights work, including high and low beams, brake lights, and turn signals. Ron Sturgeon added this wonderful model to his collection in 2003.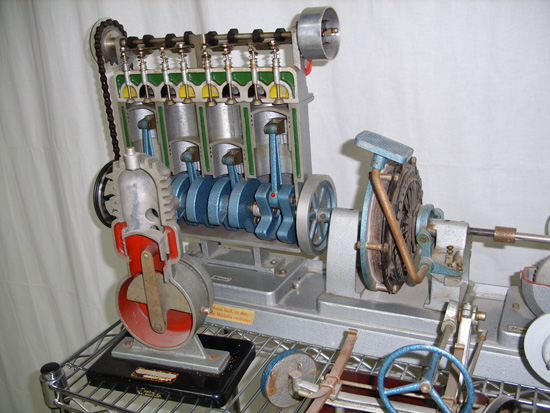 This driving school model is an excellent example of a German-made, four piece cut away training model from the 1950s. Cleverly designed, the motor snaps to the clutch, which snaps to the transmission back to the rear end. It is powered by a 220-volt electric motor. Ron Sturgeon acquired this very rare replica for his collection in 2005.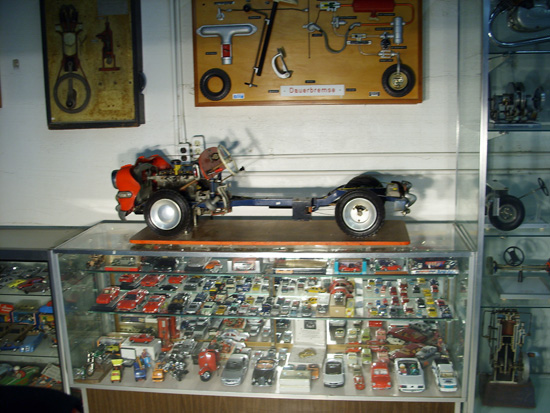 Pictured here is a showcase full of different model toys, including motorcycles, scooters, cars and trucks of all makes. The model on the top of the showcase is a 1950s VVR electric German-made driving school model. Above on the wall are two other driving school models; one features a motor with moving piston and valves, and the larger one shows how an air brake system functions and was used for the training of truck drivers.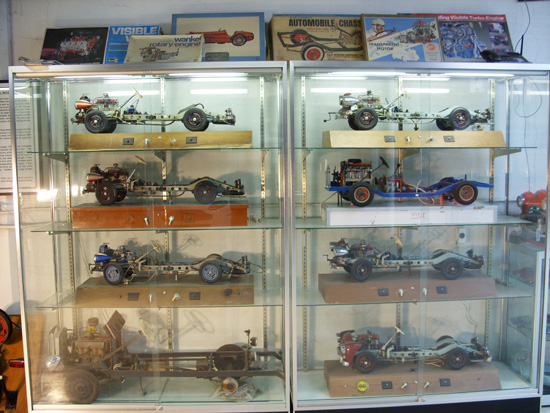 Shown here are two display cases with eight Hohm driving school models from the 1930s, '40s, and '50s, all made in Germany. Each of these delightful demonstration models is 220-volt powered. They form part of an acquisition made by Ron Sturgeon in 2003.
In this showcase are many different toys. Two VVR driving school models sit on top. On the wall behind is a large air brake system demonstration model which shows how an air brake system functions; it was used for truck driver training.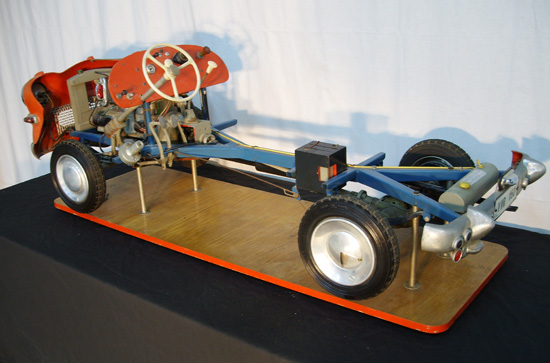 One of the Toy Museum's many German-made VVR driving school models from the 1950s is pictured. No two are alike.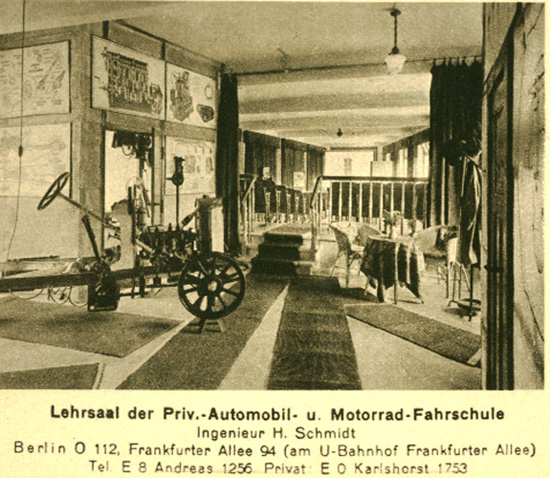 An early 19th century driving school
An early 19th century driving school.