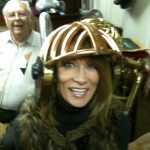 Haltom City, TX – July 6, 2022 –DFW Elite Toy Museum is the brainchild of Ron Sturgeon, an entrepreneur, HUBA founder and small business advocate who started his first business in Haltom City approximately 50 years ago.
Ron initially focused his collecting on Mercedes toys and then moved on to vintage automobile-themed items such as race cars and scale models.  As the years progressed, the collection expanded to include vintage toys, unique signs and other collectibles. Eventually, Ron decided to share his passion for toys with the public and DFW Elite Toy Museum was born.
Today, the museum has more than 3,000 unique pieces.  Auto enthusiasts will appreciate the collection of Tippco tin toys along with a wide array of early tin, wind-up, pressed steel, and other collectibles — including the rare Eva Braun Mercedes toy.  Dog lovers will like that the museum is dog-friendly and currently features an exhibition entitled "Dogs in Art, Toys and Antiques" which includes paintings and other dog-related memorabilia from around the globe.
The DFW Elite Toy Museum is located at 5940 Eden Drive in Haltom City, TX and is open to the public Monday through Friday and on most Saturdays.  Admission is free and group visits are welcome.
Salon and Spa Museum offers visitors a glimpse of what salons and spas were like in years gone by. The museum features antique salon and barber equipment, vintage hair care items, rare photos, sales and marketing materials and other items of note.  The museum is in the Salon & Spa Galleria at 5208 Airport Freeway in Haltom City. Admission is free.
About Ron Sturgeon
Ron is a small business advocate who often guest lectures at local colleges on topics related to wealth building and starting and growing a successful small business. As a philanthropist, Ron gives his time and money to a variety of charities including Boys and Girls Clubs of Tarrant County. He also donated the use of one of his homes to a family displaced by Hurricane Katrina. He is a founder of Haltom United Business Alliance, a group working to revitalize South and Central Haltom City.
About Haltom United Business Alliance (HUBA)
HUBA represents business interests in Haltom City and advocates for much-needed change, including revision of the outdated and restrictive use matrix that discourages new business and deters growth.  HUBA believes that Haltom City should prioritize development of inner-city land and vacant buildings, particularly in the major corridors close to the city's center, in order to create a stronger tax base and enhance quality of life.  All Haltom City business owners are eligible to join HUBA. Dues are $20 annually or $50 for a lifetime membership, and membership is 100% confidential. For more information, contact Joe Palmer by phone at (682) 310-0591 or email at HUBAgrp@gmail.com, or visit the group's Facebook page.
About DFW Elite Toy Museum
DFW Elite Toy Museum is a free museum open to the public located at 5940 Eden Drive in Haltom City, TX. The museum includes more than 3000 pieces collected by Small Business Activist and Haltom United Business Alliance Founder Ron Sturgeon. To learn more, visit the dog-friendly toy museum's website or follow them on Facebook or call (817) 834-3625.
About Salon and Spa Museum
Salon and Spa Museum is a free museum open to the public located at Salon and Spa Galleria 5208 Airport Freeway, Haltom City 76117. The museum features barbershop and salon memorabilia that celebrate the history of the industry.  For more information, contact Curator Rodney Ross at (817) 320-7628.