Many years ago I had several conversations with a retired Red Army officer, who served in a motorized squad in May 1945 Berlin and was present when the underground garage under Hitler's Reichskanzleri was taken. He said there were approximately 60 VIP cars standing without gasoline, including four or five huge triple-axle cross-country Mercedes Benz vehicles. The driveway was badly hit by bombing, but he clearly remembered a light blue Mercedes Benz sports car with external exhaust pipes being towed out of the garage. All the cars were loaded onto railroad wagons in early June 1945 and taken to Moscow. In August 1945 the seized cars were given as presents to high-ranking party officials and military generals, in a big event at Red Square in Moscow. They were used as state cars until ZIS cars entered production in 1951 and the state had to drive domestic vehicles. Even as recently as the late 1970s, many exotic cars were still running in the Baltic States when we had Soviet power, most taken as war trophies from Germany. I heard many rumors of surviving G4s and others and saw a very strange 5.4-litre engine with a blockaded supercharger drive. I couldn't decide whether to buy it at the time, but now I know now it was definitely from a G4. In the middle of the I980s there were rumors that a nearly complete G4 was in the Ukraine, but I haven't seen any real proof of it.
Credit to Classic and Sports Car, this information is a letter to the editor, relative to the article Chariots of Ire, February 2004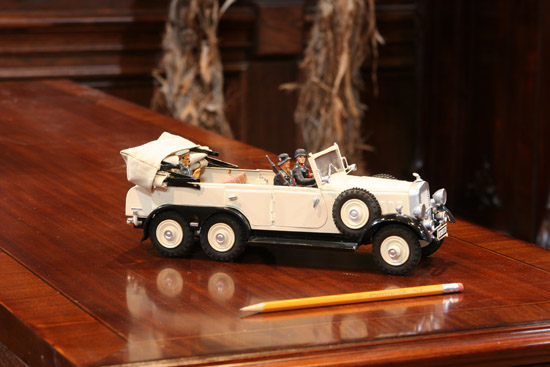 A Tippco 6-wheel Military Prime Mover with a clockwork motor. It features an officer riding in the rear, a driver and a passenger. This is a rare white toy.
Another version of a Tippco 6-wheel Military Prime Mover with a clockwork motor. It features a driver and three passengers as well as two flags with the swastika. This is a rare white version with the convertible top up.
A Tippco six wheeled camouflaged anti-aircraft truck with two composition soldiers and a driver. This is a very fine and rare example..