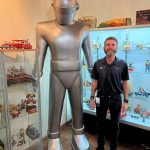 Haltom City, Texas – October 27, 2023 – The DFW Elite Toy Museum in Haltom City, Texas is featuring two very special robots in its "Robots and Space Toys" exhibit. Running through March 24, the recently opened display is free of charge and available to see during the museum's regular hours.
One of the most famous outer space robots of all time, Gort the Robot is a character from the legendary 1951 sci-fi classic film "The Day the Earth Stood Still." Approximately eight feet tall, this early replica is made of tin, and features a removable head with visor that can be opened and closed manually.
The movie character Gort was designed by the people of a faraway planet in a distant galaxy. Gort's name comes from the acronym for "Genetically Organized Robotic Technology." His job entailed enforcing laws and protecting citizens against aggression–a galactic policeman of sorts. More specifically, Gort was charged with guarding Klaatu, the peaceful humanoid alien ambassador of an interplanetary confederation. As the pilot and captain of Klaatu's ship, Gort also could operate highly complex machinery.
Gort was quite large, possessing immense strength that allowed him to knock out enemies with a single blow. His weapon was his visor, which issued a laser-like beam of destructive energy to obliterate aggressors and preserve peace. The trademark phrase used to stop Gort, "Klaatu barada nikto," is one of the most famous phrases spoken by an extraterrestrial, as well as one of the most famous commands in science fiction.
One of the museum's more impressive pieces, this life-size version of the Red Rocker from the Rock 'Em Sock 'Em Robots is a sight you won't want to miss. With his soft, squeezable hands and inimitable punching action, Red Rocker throws punches just like the smaller version in the popular game. His body and head are constructed of hard plastic/carbon material, and he stands tall at a whopping five feet, eight inches tall on his base.
Anyone who grew up in the 1960s surely remembers the ever-popular Rock 'Em Sock 'Em Robots, a two-player action game made by Louis Marx and Company in 1964. The game features two dueling robot boxers, Red Rocker and Blue Bomber. The boxers were positioned to face each other on a yellow plastic platform. Each player operated two buttons, which controlled the robots' punching movements. When one of the robots received a well-placed punch to the head at just the right angle, the head popped up, signifying a win for the other robot. A popular television commercial in the 1960s for the robot game was well-known for the phrase "Awwww, my block is knocked off!"
The DFW Elite Toy Museum is the brainchild of businessman Ron Sturgeon, who first started collecting toy Mercedes cars more than 40 years ago. Sturgeon expanded his interests to include rare and vintage automobile themed items such as race cars and scale models. As the years progressed, Sturgeon's interests expanded to include vintage toys, unique signs, automotive memorabilia, and other rare and historic collectibles. As his burgeoning collection grew, Sturgeon hatched a plan to open the DFW Elite Toy Museum, home to the current special exhibit, "Robots and Space Toys." This exhibit runs through March 2024, and contains a plethora of robots and space toys from the mid-20th century, including Gumbo the Robot Italian Gumball Dispenser, the full set of incredibly rare Gang of Five robots, and the unusual Volkswagen Beetle Space Patrol Car.
About DFW Elite Toy Museum
Rare cars, dog antiques, collectible toys, and hard-to-find memorabilia are featured at the DFW Elite Toy Museum, which contains more than 3,000 pieces collected by serial entrepreneur and real estate developer Ron Sturgeon. Admission is free to the dog-friendly museum, which is located at 5940 Eden Drive in Haltom City, Texas. On display now at the museum is a special "Robots and Space Toys" exhibit, featuring some unique and hard-to-find robots. The exhibit allows visitors to experience mid-20th century space toy history in person. Sturgeon owns the only two museums in Haltom City, a suburb of Fort Worth, the toy museum and the salon and spa museum.
Featured in the popular book "100 Things to Do in Dallas-Fort Worth Before You Die," the museum is open to the public, and hours are 9 a.m.-5 p.m. Monday-Friday, and most Saturdays. Special events and groups are welcome with advance notice. View this video to discover how Sturgeon started his collection more than 40 years ago, and how that led to opening the museum. Learn more by visiting the website at dfwelitetoymuseum.com. You can also follow the museum's Facebook page.