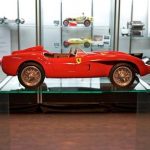 Haltom City, TX – June 2, 2022 – The DFW Elite Toy Museum is honored to be included in the book 100 Things To Do In Dallas-Fort Worth Before You Die, 2nd Edition.  As indicated on its cover, the book was written to spark ideas for family outings, date nights, solo excursions, or simply hanging out with friends on your day off.  According to the publisher, "If you live in, or are visiting, the DFW region, this list will inspire you to start exploring."
The DFW Elite Toy Museum is the brainchild of businessman Ron Sturgeon who first started collecting automobile memorabilia over 40 years ago.  Ron initially focused on Mercedes toys and then moved on to rare and vintage automobile themed items such as race cars and scale models.  As the years progressed, Ron's interests expanded to include vintage toys, unique signs, and other rare and historic collectibles.  Eventually, the personal collection was so expansive that the idea for the DFW Elite Toy Museum was born.
Today, the DFW Elite Toy Museum has more than 3,000 unique pieces in its collection.  Automobile enthusiasts will appreciate the impressive collection of Tippco die cast toys along with a wide array of early tin, wind-up, pressed steel, and other collectibles — including the very rare Eva Braun Mercedes toy.  Dog lovers might be interested to hear that the museum is a "dog-friendly" space and currently features an exhibition entitled "Dogs in Art, Toys and Antique" which includes iconic dog-themed paintings and other dog-related memorabilia from around the globe.
The DFW Elite Toy Museum is located at 5940 Eden Drive in Haltom City, TX and is open to the public Monday through Friday and on most Saturdays.  Admission is free, and group visits are welcome with advance notice.
Interestingly, Ron recently launched a second specialty museum nearby — the Salon and Spa Museum — which features a collection of antique salon and barber equipment, vintage shampoos and other hair care items, photos, sales and marketing materials, and other items of note.  The new museum is located in the Salon and Spa Galleria near downtown Fort Worth at 5208 Airport Freeway in Haltom City.  Check it out if you get the chance.
About DFW Elite Toy Museum
DFW Elite Toy Museum is a free museum open to the public located at 5940 Eden Drive in Haltom City, TX. The museum includes more than 3000 pieces collected by serial entrepreneur and real estate developer Ron Sturgeon. To learn more, visit the museum's website or follow them on Facebook or call (817) 834-3625.