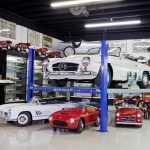 Fort Worth, TX – February 17th, 2023 – A KDAF TV Fun on the Run segment recently highlighted some of the fascinating memorabilia that can be found at the DFW Elite Toy Museum.  Said the reporter, "You've never seen a museum quite like this here at the DFW Elite Toy Museum. It includes everything for dog lovers, car lovers and toy lovers.  It's called DFW Elite Toy Museum and has been the talk of the town, even getting a feature on the show American Pickers."
Museum founder Ron Sturgeon started collecting automobiles and auto-themed items more than four decades ago with his first purchase of a German–made Marklin truck and trailer circa 1940.  He went on to amass a wide variety of vintage automobiles and memorabilia as well as an impressive collection of rare antique toys and dog-themed items. According to Sturgeon, "We have a little bit of everything for everybody, automobilia and toys, and then we branched into dog typing antiques ¾our current gallery exposition is on robots ¾ and other tin toys from the 1960s…."
Today, the DFW Elite Toy Museum has more than 3,000 unique pieces on display and features one of the largest collections of Tippco die cast toys in the world, including the very rare Eva Braun Mercedes toy.  The museum's most recent addition is the only known 1950's Atom Jet Racer with its original box which is widely considered to be one of the most sought-after items by toy collectors.
The museum is currently listed in the DFW guidebook entitled 100 Things to Do in DFW Before You Die, 2nd Edition and is known to be a "dog-friendly" space that has iconic dog-themed paintings and other dog-related memorabilia on display as well.  Featured on FOX 4 in 2015, the museum was called a "quirky place filled with rare and antique treasures" and said to be a Lone Star Adventure destination that was "well worth the effort."
The DFW Elite Toy Museum is located at 5940 Eden Drive in Haltom City, TX, and is open to the public Monday through Friday and on most Saturdays.  Admission is free and guided tours are available by appointment.  The museum is a great outing site for automobile clubs, church or social groups, retirement or assisted living facilities and other interested parties.
About DFW Elite Toy Museum
DFW Elite Toy Museum is a free museum located at 5940 Eden Drive in Haltom City, TX. The museum includes more than 3000 pieces collected by serial entrepreneur and real estate developer Ron Sturgeon. To learn more, visit the dog-friendly toy museum's website at dfwelitetoymuseum.com, follow its Facebook page or call (817) 834-3625.