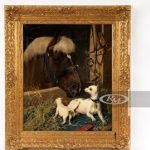 Fort Worth, TX. — May 4, 2021 — Almost half of the households in the United States have a dog and so it is no great surprise that dog-themed items are extremely popular with collectors. DFW Elite Toy Museum in Fort Worth, Texas, recently closed out one of its most popular exhibitions of paintings and sculptures featuring dogs, dog collectibles, and dog-themed antique toys.
Many of the most popular pieces from that exhibit have been consigned to RM Sotheby's to be part of its second big online auction of the Spring, Handle with Fun. The auction will feature unusual automobiles, antique coin-operated games and a variety of antiques that evoke fun and whimsy.
"We're always adding to our collection the toy museum and simply had to consign some wonderful dog-themed pieces collected by the owner of the museum to make room for new acquisitions of special rare toys," said DFW Elite Toy Museum Curator Rodney Ross.
Many of the pieces celebrate the special bond between dogs and other animals and dogs and dog owners, and many of the antique toys featuring dogs and dog collectibles fit perfectly with the theme of fun that unites the items in RM Sotheby's auction, said Ross.
In addition to the dog-related items, the museum has also consigned some vintage Mercedes pedal cars, several one-off scale models and a few German driving school models from its collection.
Bidding for items featured in Handle with Fun opens May 5, 2021, 11 am EDT and lots will close in a staggered format starting at 10 am, EDT on May 12 and continuing throughout the following day. To see available lots or to register to bid, visit the auction's page at RM Sotheby's.
Admission to the toy museum is free and it is open weekdays from 9-5 pm and on Saturdays by appointment. The museum includes more than 3000 items collected by Fort Worth serial entrepreneur and Fort Worth commercial property for rent developer Ron Sturgeon, who was featured on CNBC's Blue-Collar Millionaire program.
The toy museum includes scale models, rare vintage racecar toys, and one of the rarest Tippco toys ever made, The Eva Braun Mercedes, of which there are fewer than six known to exist. The museum is located at 5940 Eden Drive, Haltom City, TX 76117. Watch for a new exhibit starting soon.
The full list of consigned items is as follows:
Custom-Built 1934 Mercedes-Benz W25
Juan Miguel Fangio signed print
Bimbo Racer 12V Children's Car, 1956
Mercedes-Benz 190 SL Junior
1928 Packard Sedan Contemporary Burgundy tin toy
Ditzler Automotive Finish paint sample model, ca. 1940s
1953 Ferrari 500 F2 Ascari junior race car
DeSoto Design Studios, original 1955 DeSoto Fireflight styling design model
Transportation-themed smelter mantle clock and flanking matching statues
Antique National cash register
Dicing at Donington by Richard Wheatland, 1990
Signed Grand Prix of Cuba event poster signed by Fangio
Collection of Toy Dogs
Dog Crate
Wind-Up Toy Dog with Movable Actions
Titley Abbey Poodles, a late Victorian collage depicting two Poodles in an interior
Study of Pekingese by Debenham & Gould
"Dignity & Impudence" by British school 20th century, after Sir Edwin Henry Landseer
"Lunch Time" by Edward Charles Barnes
"Itsy Bitsy Spider" by Thomas J Hill
"The Wounded Companion" after Richard Ansdell
"First Point" Attributed to George Armfield
"Trapped" signed E. Armfield
"A Good Shot" by Henry Wilkinson
"The New Stable Companion" by Julius Von Blaas
"The Marquis of Huntly's pair of Deerhounds Narren and Gaivney on Highland" by Charles West Cope, R.A. Landscape.
"An Incident in the Classroom" by Lucien Gerard
"At the end of the day" by John Gifford
"Herding Dog" Spanish school 19/20th Century
"Cairn Terrier", School of George Armfield
"Sleeping in" by Pamela Dennis Hall
"Two Pekes" by Kate Rashleigh
"A Pomeranian" by John Alfred Wheeler
"Rover" by Colin Graeme Roe
A soldier with his wife by water fountain with 4 dogs by Robert Graves
"W.C. Prive" dirty dogs of Paris series by Boris O'klein
"Why don't you take it?" Currier & Ives
Hunter with his 4 hunting dogs by Fritz Krostewitz
"Chow head study" by 20th century school initialed S.R.
"Borzoi head study" by Karen Staudt
"Coursing Salukis" by Cindie Underwood
"Study of an Italian Greyhound" by A. Blackley
"Afghan head study" signed S.R.
"Otter Hounds working a stream" by Reuben Ward Binks
"A group of five Cocker Spaniels at the edge of a wood" by Reuben Ward Binks
"Terrier with a blue bow" by E. Williams
"Best friends" by Wright Baker
"Life is good" Paris, 1913 by Patt R. LeMarie
"Defense of the realm" by John Hayes
"After dinner guest" by Louis Eugene Lambert
Bronze dog statue with dog holding a fetch stick
Cobra Dragster 1:4 Scale Functional Model by Performance Drag Products
Virgil Exner 1958 Indy Roadster model in custom steel and leather carrying case
Barney Korn 1932 Ford Roadster Tether Car
1937 Talbot Lago T150C SS Convertible Model
Fiat 1100 Super Oscar Grand Luxe dissected for driving school model by Werner Degener, circa 1960s.
About DFW Elite Toy Museum
DFW Elite Toy Museum is a free museum open to the public located at 5940 Eden Drive in Haltom City, TX. The museum includes more than 3000 pieces collected by serial entrepreneur and real estate developer Ron Sturgeon. The museum was recently featured in the DFW guidebook "100 Things to Do in DFW Before You Die. To learn more, visit the dog-friendly museum's website at dfwelitetoymuseum.com or follow the DFW Elite Toy Museum on Facebook.