Autobahn Kurier article Jan. 07 (PDF)
Probably the most difficult to find of all the German-made tinplate toy automobiles from the middle-to-the-end of the 1930sis this streamlined Autobahn Kurrier sedan from Tipp & Company. From 193G through to 193, the Tippco Catalogue listed their "Geschlossener Sportwagori," an incredible 13 1/2′ long new-art streamlined Mercedes Two Sedan as currently available. There were, apparently, few takers, partly because the price was high for a depression-era toy, and partly because very few Germans had ever actually seen such a car. Here's a cut from that catalogue. The toy was also available with working headlights.
Just look at this car – it certainly was years ahead of anything being offered in Germany during that time. That's real streamlining in that body. No other car design for that time, however majestic, could hope, really, to compete with it. The real car – and it was built by Mercedes – was called the Autobahn Kurrier. It certainly appeared as though it could travel the new German Autobahn throughway at 125 miles per hour all day long, if necessary.
These two pictures of the actual Autobahn Kurrier, taken in 1934/5, are truly rare, and there's a very good reason for this scarcity – only one car was ever built! It's no wonder, then, that our Tippco toy is so sought after is it? How many were ever sold deriding the three years it appeared in the Catalogue is anyone's guess, but it certainly wasn't very many. Have you ever really seen one for sale? If you have, you'll not be too surprised, will you, to discover a five-figure price tag. Woof!
From Antique Toy World, 2007, written by Jack Herbert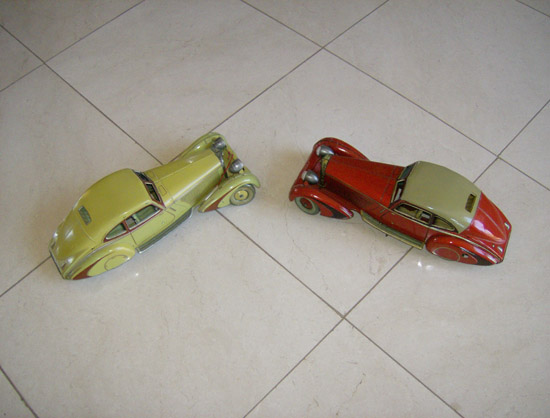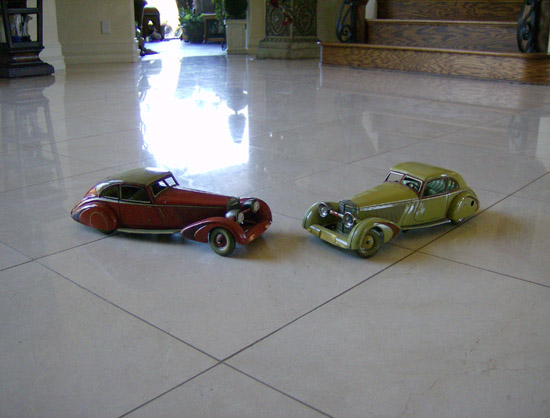 .