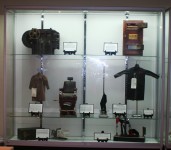 Come join us for a journey back in time. We're going back to the time before Amazon One Click…before we had the Internet, or superhighways. Our destination is more than a century ago when Model T's were a new invention.
Back then, travelling salespeople hawked their wares face to face using intricate scale models to demonstrate how the full-size version of their product worked.
DFW Elite Toy Museum has a special exhibit of salesman's samples. Come join us for opening night of the new summer exhibit. See the Adams Road Grader sample from Antique Road Show and a host of other exciting scale sales presentation models.
Get a sneak preview of this exciting exhibit at the pre-opening party. It's going to be fun!
When: July 16th, 2013
What time:  5:30- 8:30pm
Where: DFW Elite Toy Museum at 5940 Eden in Haltom City, TX
Dress: Casual
Food: Drinks and appetizers will be served
Details: RSVP to Jennifer Knittel at jenniferk[at]rdsinvestments.com