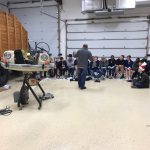 RockPointe Church has a program for Freshmen in high school called "Man Up".  They meet every Wednesday night and spend the first half of the meeting learning a "Man Skill".  These skills range from learning about cars to carpentry and how to interview for a job.
Currently on the automotive section, Stoney Rutledge, founder of Late Model Auto Salvage is working with the students to teach them the basics of cars. He used Ron's model to so show them how the internals of an engine work; and taught them the four strokes of an engine. They also got to experience how a manual transmission operates and a rear axle.
Another learning experience for these young men, Stoney went over the difference in disc and drum brakes.  The model car that was provided by the DFW Elite Toy museum was very helpful in explaining all of this because it is cut away so you can see how the internals work.
The second half of the meeting is always a bible study that is generally pointed towards something they will deal with in High school.
Check out our Facebook page for more events and current toy exhibitions.