Contact:          DFW Elite Toy Museum
Rodney Ross<
Toy Museum Curator
5940 Eden Drive, Haltom City, TX 76117
rodneyr@rdsinvestments.com
Texas Toy Museum Acquires Malcolm Forbes' Ship Models
DFW Elite Toy Museum to Feature the Collection in Upcoming Exhibition
May 21, 2011 – Fort Worth, TX – Some exquisite ship models from the extensive lifetime collection of publishing magnate and legendary collector Malcolm Forbes have docked in Texas. DFW Elite Toy Museum is the new home for the ships that will soon be on display for the public.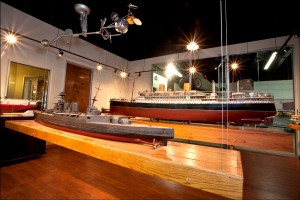 DFW owner and Fort Worth commercial real estate developer Ron Sturgeon acquired the models from Red Baron's Auction House in Atlanta. "We are very excited to add these ships to our museum. It is a unique opportunity for people in Texas to view top-quality ship models from a world famous collection."
The auction, held by Red Baron Antiques, included portions of Forbes' lifetime collection of ship models, toy boats, toy soldiers and maritime paintings.
The most exciting collectable obtained by Sturgeon for the toy museum is a maker's model of the British passenger liner, "Rangitiki".
"The detail of Rangitiki in itself is a work of art," said Bob Brown of Red Baron Antiques. "The maker's model would have been done to show the new owner what the finished ship would look like."
The Rangitiki maker's model was built by John Brown and CO Ltd., Clydebank, Scotland, in 1929 for the New Zealand Shipping Company. At the time, the actual ship was the largest vessel trading from Southampton, England, to New Zealand through the Panama Canal. During World War II, she was converted for troop transport.
Other models acquired by Sturgeon include a model of a steel side-paddle steamboat used in Swaziland; a model of "Monmouth", a British armored cruiser that sank in 1914; a model of the British cruiser "Belfast", which was built in 1939 and is still on display in London as a museum ship; a model of the composite clipper "Torrens", which survived a collision with an iceberg in 1896, but was eventually sold for firewood in 1910.
"These models give us an opportunity to view history," said Sturgeon. "Most of these ships no longer exist, but we can see exactly what they looked like, thanks to Malcolm Forbes' dedication to preserving maritime history."
DFW toy museum houses one of the largest public collections of automotive toys and models in the world. The museum plans to feature the models in its main gallery from June 8 to September 17 2011.  After that exhibition, the ships from the Forbes' collection will be on rotating display with other exhibits in the museum.
To see the Forbes' collection ship models and the entire toy collection in person, stop by DFW Elite Toy Museum at 5940 Eden in Fort Worth. The museum is open from 9 to 5 on weekdays and 9 to 4 on most Saturdays. For information on the new exhibition, call Rodney Ross at 817.834.3625 x6.
###
Cutline: The 10' long maker's model of "Rangitiki", once part of the private collection of publisher Malcolm Forbes, is a highlight of the free exhibit at DFW Elite Toy Museum in Fort Worth. HMS Hood, a WW II battle cruiser, in foreground, and German race car prototype hangs from ceiling in the museum. (Photo by Spiral Photography– Ft Worth).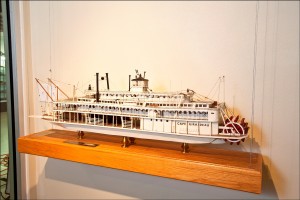 The open wheel paddleboat "Cape Giradeau" also came to the museum from the Forbes Collection (Photo Spiral Photogrpahy – Ft. Worth).