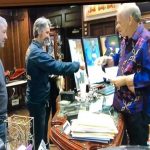 Haltom City, TX. — June 10, 2021 — Serial Entrepreneur Ron Sturgeon has been collecting automobile memorabilia and rare toys for more than four decades, so the news that he was considering selling some of his collection attracted wide interest.
When American Picker Mike Wolfe and his brother and fellow picker Rob Wolfe found out that there could be some auto memorabilia and some rare toys for sale, they stopped by DFW Elite Toy Museum to visit with Ron as they picked their way across Texas.  The Wolfe brothers went nuts when junkyard Ron opened the doors to his jaw-dropping Fort Knox of high-end toys.
"Mike Wolfe and his brother Rob were super cool to hang out with," said Sturgeon, who sold a few items from his collection to the pickers. "They both have great respect for people who collect and for the stories behind the pieces that they pick," said Sturgeon.
The episode featuring Ron and the museum, titled Fort Knox of Toys, will air Monday, June 14, 2021, at 8 pm CST on The History Channel. Learn more at https://next-episode.net/american-pickers.
Sturgeon is hosting a watch party at Tarrant Events Center in Haltom City by invitation only Monday night with his fiancée, Linda Allen, who is also in the segment. He said he expects some surprises since he hasn't seen the episode yet.
Sturgeon was previously featured on CNBC's Blue-Collar Millionaire in a segment that chronicled his success in the auto salvage industry.  In addition, he and his King Charles Cavaliers have appeared in an episode of HGTV's Pet Palaces, and he has filmed sizzle reels for other reality shows.
"I am proud to have a toy museum in Haltom City, where I started my first business, a VW repair shop, nearly 50 years ago," said Sturgeon. The dog-friendly museum is open from 9 am to 5 pm on weekdays with free admission and welcomes group tours by appointment.
"We hope a few people who see us on American Pickers will want to stop in to see arguably the best toy museum in America and the only museum of its kind in Haltom City," said Sturgeon.
About DFW Elite Toy Museum
DFW Elite Toy Museum is a free museum open to the public located at 5940 Eden Drive in Haltom City, TX. The museum includes more than 3000 pieces collected by serial entrepreneur and real estate developer Ron Sturgeon. The museum was recently featured in the DFW guidebook "100 Things to Do in DFW Before You Die." To learn more, visit the dog-friendly museum's website at dfwelitetoymuseum.com or follow the DFW Elite Toy Museum on Facebook.