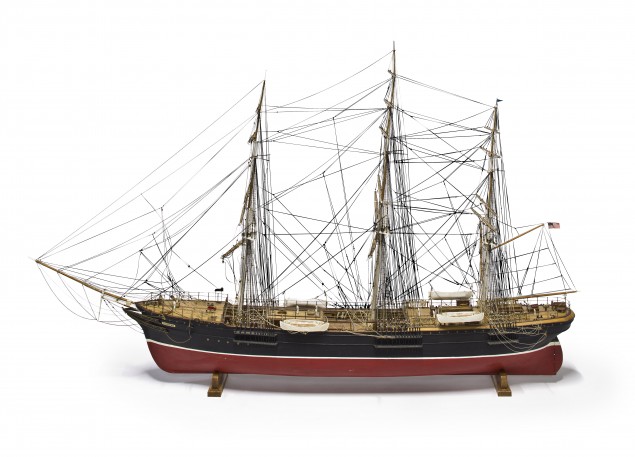 A well detailed scale model, the hull built up in wood and painted with a red bottom, white waterline and black top sides, with planked decks, deck houses, various deck fittings and details, mast and spars, standing and running rigging, and displayed on a pair of wood cradles
72 x22 x 44 in. (182.8 x 55.8 x 111.7 cm.) model on cradles
British composite clipper ship full-hull rigged display model depicting "Torrens." A composite vessel built of wood and metal. The three-masted ship Torrens had wooden planking over an iron frame. She was essentially a passenger ship, and was said to have been the most perfect of the composite clipper ships built by England. Torrens was built by James Laing of Sunderland in 1875 for the Australian Trade. In 1896 she had a collision with an iceberg, but survived to reach port. The vessel was operated until she went ashore in 1910 when she was broken up and sold by firewood merchants.
Provenance: Malcolm Forbes Collection
Price: $12,500
Article #3056