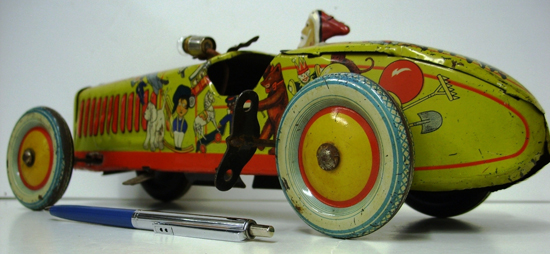 Museum Adds Second Rare Santa-driven Antique Toy Car
December 9, 2008 – Dallas, TX – Christmas has arrived early at DFW Elite Toy Museum.com with the acquisition of a rare, pre-World War II toy featuring Santa on his way to deliver toys …in an open-wheel car. What makes this addition even more exciting is that it is the museum's second wind-up tin car from this era featuring Santa at the wheel.
A company named CK manufactured the Japanese-made tin car, and it is similar to a model produced by German toy maker Tippco during the same era. DFW Elite Toy Museum.com founder Ron Sturgeon has owned the Tippco Santa car for about 10 years, but he only recently acquired the rare CK model. Both toy cars are approximately one foot long, and both have electric lights. Although the lithograph finish on both cars shows a parade of toys, the CK model's toys are much more colorful.
"It's just a fabulous piece to see," said Rodney Ross, curator of DFW Elite Toy Museum.com. "As far as Japanese-made tin cars, this is the only one with an electric light," noted Ross. "We have a lot of rare toy cars, but this one is probably the rarest in our collection," said the curator.
Rex Barrett, an antique toy dealer from Chicago, Illinois, said, "I know of only two of these [CK Santa] cars that are left – and I own the other one."
The original Santa figure behind the wheel was lost years ago, so the CK Santa car's former owner had one created by Joe Freeman, a Pennsylvania craftsman who is known among toy collectors as the best person to recreating missing parts or make delicate repairs. The replacement Santa was copied from the Santa figure that Barrett had commissioned Freeman to make for his version of the car.
"I made a photocopy of a picture of the car in a magazine and had him replicate that Santa," Barrett said.
The fact that visitors to the DFW Elite Toy Museum can see both vintage Santa cars side by side is an unusual experience that Barrett said should delight everyone from children to serious antique toy collectors.
"Not much is known about the CK toys, because the Japanese were just interested in making money; they weren't interested in preserving the history behind the cars," Barrett explained. "Everyone assumes that the Japanese copied the [idea from the] Germans, but there's no proof it wasn't the other way around."
He said the German-made Tippco cars were distributed throughout Europe, while the Japanese-made CK cars found their way to Great Britain, the United States and India.
"Before World War II, the Japanese were exporting these things as fast as they could," he said. "American toys at that time were very crude by comparison, so they were very popular here. The Japanese were even more prolific than the Germans at making these cars, but only about five to 10 percent of those toys hit the shelves in Japan. The rest were exported – and now they're almost all gone," noted Barrett.
The new CK Santa car can be seen along with the Tippco Santa car and other rare and antique toy cars in the Toy Museum inside DFW Elite Auto Rental.com at 5940 Eden in Fort Worth. Hours are 8 a.m. to 6 p.m. Monday through Friday, with weekend hours by appointment. In Fort Worth, call 817.838. RENT (7368); in Dallas call 214.247.4700. For more information, visit them online at http://www.dfwelitetoymuseum.com.
###.