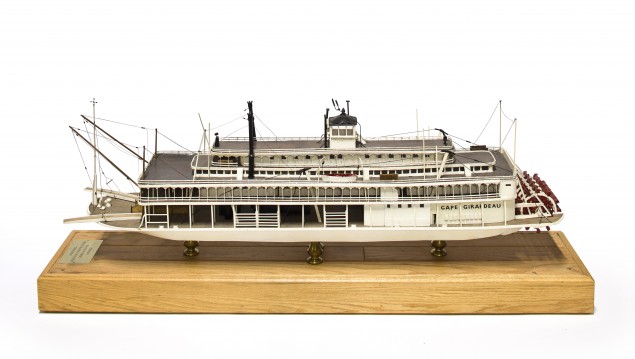 A model of the Mississippi paddle wheeler Cape Giradeau
Anonymous, 20th Century
The hull built up in wood with white topsides, planked decks, various deck structures, stairways, funnels, boats, wheel house and other details. Displayed on four turned brass pedestals on an oak base.
49-1/2 x 10-1/4 x 19 in. (125.7 x 26 x 48.2 cm.) model on base
This model depicts the stern-wheeler steamboat Cape Girardeau. The 19th century Mississippi river boat was named after a city in southern Missouri.
This model is lightly built of wood and its hollow frame is made of plank-on-frame or plank-on-bulkhead construction.
Provenance: Malcolm Forbes Collection
Price: $4,950
Article #3062