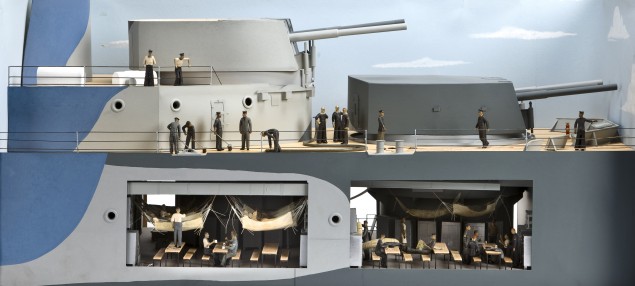 A cut-a-way section of the British light cruiser H.M.S. Belfast
British late 20th century
Well detailed and showing the two (2) forward turrets of the ship and various aspects of the ship board life on a British cruiser, including swabbing the decks with brush crew and hose, bucks, hammocks, and eating tables, lockers, and numerous other details.
37 x 20-1/2 x 17 in. (93.9 x 52 x 43.1 cm.) dimensions of box
British cruiser cutaway sectional model depicting "Belfast." HMS Belfast was completed by Harland & Wolff on 3 August 1939. Her internal subdivision was exceptionally complete. She was practically rebuilt after being heavily damaged by a mine in the early months of World War II. Her beam was then increased and other alterations were made. The vessel survives, and is currently afloat on the Thames in London.
Provenance: Malcolm Forbes Collection
Price: $10,750
Article #3055